Rodrigo Medeiros (Black belt - Carlson Gracie/BJJ Revolution Team) wins Silver at Worlds 2016!
The IBJJF Masters Worlds happened not too long ago on August 25-27 in Las Vegas. It was a jammed-packed tournament that had some of the biggest names in the game including our very own black belt, Rodrigo Medeiros. He had 3 fights in the middle weight division, where he won the silver medal. He also did the Pan Americans this past March in the Master 4 Lightweight division, where he won the gold. What people might not know are the obstacles he had to face after Pan Ams, before heading for the Masters Worlds. Rodrigo had an inguinal hernia surgery the day after Pan Ams, causing him to stop training for 2 months. When he went back into training in June, he faced more, small injuries to the point that he almost thought of not competing. Furthermore, he had to move up to the middle weight division even though he was very limited with doing anything too physical. For a 46-year-old to pull it off, go through a camp, still compete, and be successful at it, truly says a lot about the type of athlete Rodrigo is.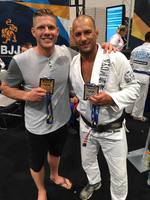 Rodrigo also runs the BJJ Revolution academy inPacific Beach San Diego, California. It's been in that same location for 17 years, offering 7 classes a day for adults and kids BJJ, self defense, NoGi, and Judo. He's been training Brazilian Jiu-Jitsu since 1984 and been a black belt since 1996, making him a 5th degree black belt. In addition to his career, Rodrigo enjoys surfing, swimming, yoga, traveling, and playing video games. We guarantee that you will gain so much more than just learning BJJ under Rodrigo! If interested, you can contact him through
http://rodrigomedeirosbjj.com
or
http://Bjjrevolutionteam.com
. They also have a Facebook page under the same name! You wouldn't want to miss out on a good train with a high-level athlete!