Pati Fontes (Checkmat BJJ) fierce competitor while developing the next generation of Athletes!
Just over 10 years ago when she was a 15-year-old living in Brazil, Pati Fontes only dreamed about becoming a black belt World Champion. That dream pushed her all the way until she got promoted to black belt on the podium at last year's IBJJF Worlds by Lucas Leite. She wasted no time and immediately hopped on the highly-competitive tournament scene. Just 5 months after receiving her black belt, she became the IBJJF NoGi Worlds Light-feather Weight Champion. This year, Pati got 3rd at both IBJJF Pan Americans and Worlds, and also got silver at the NoGi Nationals at the UFC Expo held in Las Vegas. Not bad at all for someone who's just new in the professional level! How does she do it you may ask. It takes losing about 12-15 lbs, with 8 weeks of conditioning 5 times a week and training 6 days a week for around 8 hours on the mats.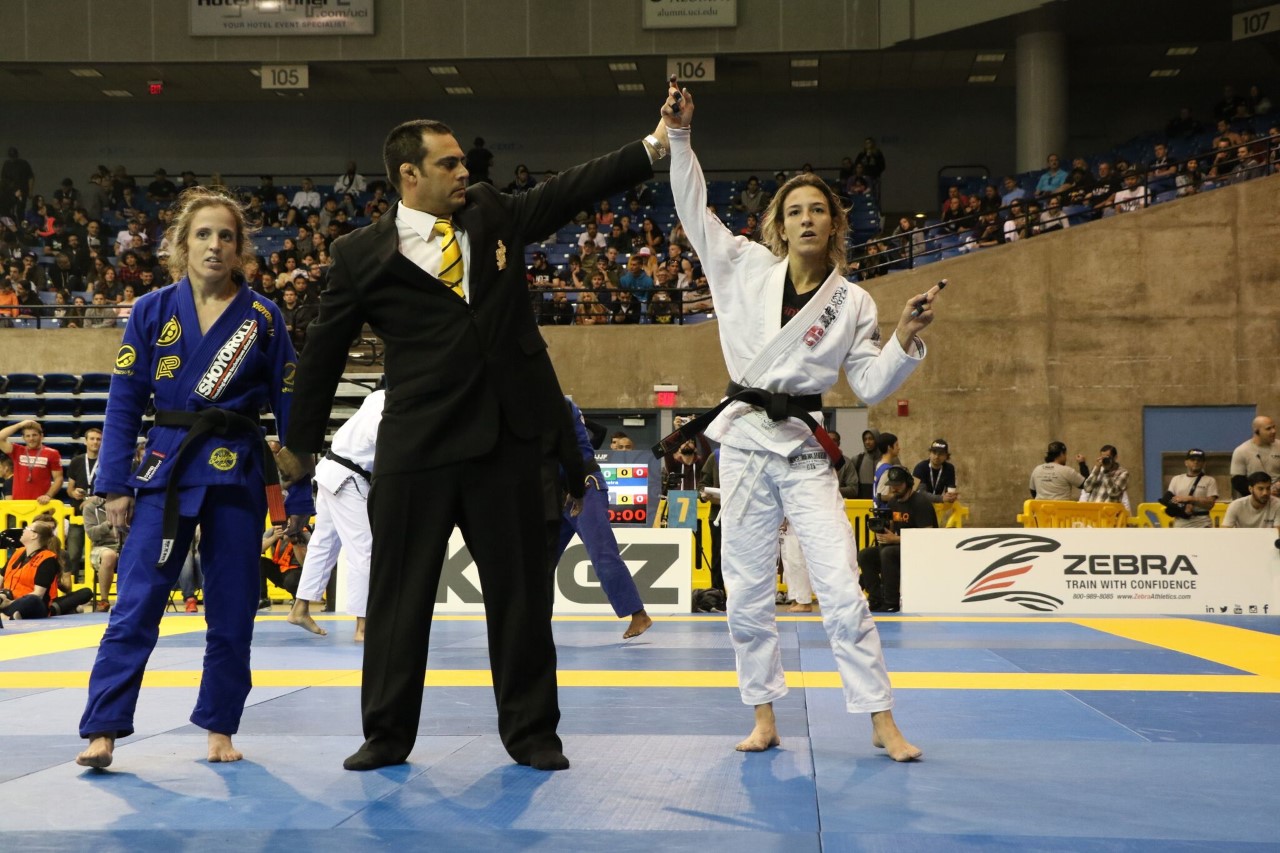 Pati diets very strictly, eating every 2 and a half hours and consuming carbs only at night after a hard day's work for recovery. Some people may also say that with great privilege, comes great responsibility. Pati now teaches all the women's classes at Checkmat HQ on Tuesdays and Thursdays and the women's class at Checkmat La Habra on Saturdays. She also dedicates a lot of her time working with kids and teens in both academies. She formed a great group of competitors especially girls that are very consistent - she calls them "Paticats." These youngsters are very talented, according to Pati, and some of them already hold world titles. She plans to bring them as far as they could go! But a black belt with a lot on her plate Jiu-Jitsu wise is not all this woman is about.
Pati is also a proud ballerina who enjoys snowboarding and rollerblading on her days off. Who says world champions don't know how to have fun? Pati will be a part of a Grand Slam in September, has a super fight in October in Atlanta, and will be defending her title at this year's NoGi Worlds. Being the hungry competitor that she is, Pati's already preparing and planning for next year. She plans on making another one of her dreams come true by winning gold at the IBJJF Worlds tournament. She's also looking forward the Abu Dhabi World Pro, Europeans, and she'll be trying to earn a spot at the ADCC event. It's hard to keep up with such a talented, hard working fighter, but with Pati, we're more than excited to see her do work!