Husband & Wife Team Veronica and Jeff Messina 2016!
We're completely aware that all of our athletes are talented in areas beyond Brazilian Jiu-Jitsu. And some of them are lucky enough to share these passions with another, like Jeff and Veronica Messina. In 1997, Jeff began doing BJJ, Muay Thai, and boxing, but gravitated more towards BJJ. Now he's a second-degree black belt under Rodrigo Medeiros. He began his first gym in 2005 with Yves Edwards and Tim Creduer. Jeff has since opened his location in Katy and moved the original location to downtown Houston. Revolution Dojo has a very active BJJ, Muay Thai, Judo, and MMA teams. He's also not shy in the tournament scene, doing a lot of IBJJF Opens and IBJJF NOGI Worlds just in his black belt career. In addition to all that, Jeff is also an 11 Bravo in the Army National Guard. They drill 1 weekend a month, 2 weeks a year. He recently just returned from Mountain Warefare School in Chile. Jeff says that being a part of a tough unit can get difficult, but makes him a better leader for his students and a stronger fighter. He's found a great balance between his 2 chosen careers.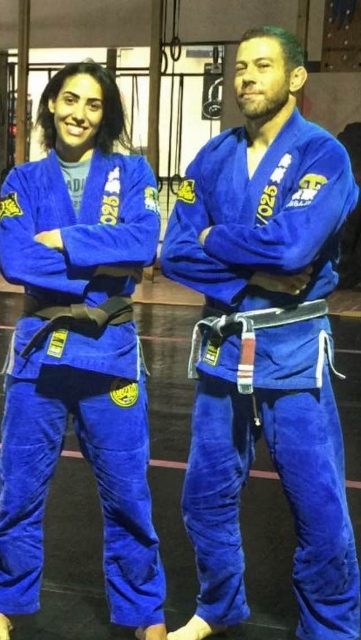 The lucky assistant that gets to push and help Jeff everyday is his partner, Veronica. She's been training since June 2009 and is now a brown belt in BJJ and Judo. Her friend brought her to an open mat at Revolution Dojo. She knew of Jeff, but didn't know that he owned a school till she saw him there. Veronica trains 3-5 times a week, does the billing for the academy, helps teach classes, and whatever else Jeff needs her to do as his business assistant. Along with this, she's also a mother and takes Theological Seminary course as an observer.

As one can see, this power couple has no time to do wasteful things other than staying on top of their careers, doing some well-needed leisures and relaxing as a family, and being there for each other. One can be rest assured that they will give you 110%. If anyone is interested in checking out their academy, visit their website revolutiondojo.com. With a great team behind your back, any hopeful individual can achieve beyond what is expected!
---