Fernando Amado (Puple belt - Entram x Atos HQ) 2016!
From Tijuana, Mexico, comes a 25-year-old competitor who dedicates a great amount of hard work towards Brazilian Jiu-Jitsu. His name is Fernando Amado, but he goes by the name "Fer Ji." He trains regularly at the Entram Academy in Tijuana, Mexico, and also trains 2 days a week at the Atos HQ academy in San Diego. Fer Ji started off doing MMA, but then went on to Brazilian Jiu-Jitsu and has been in it for 3 years now in the gi. He trains in the gi 2 times a day, enjoying doing leg drags and going to the back. He says he likes playing both top and bottom, which clearly proves that he's an efficient fighter. Fer Ji also lifts 4 days a week on top of all the training he already does.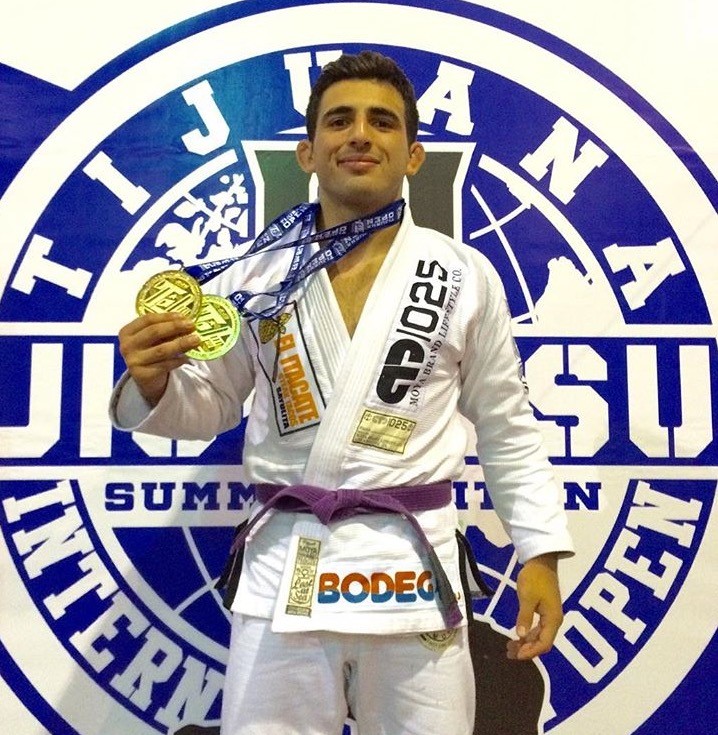 He's what anyone can admit to be a professional athlete. Fer Ji believes that his focus on training for constant competition is his greatest weapon; we for sure have no doubt about that. He was promoted to purple belt just 6 months ago and already he's been everywhere in the tournament scene. At this year's IBJJF Irvine Open, he got gold, winning 2 fights via submissions. He received bronze at the Abu Dhabi World Pro Trials where he had 4 matches. At the San Jose Open, he got silver, but won his super fight in Torreon, Mexico (winning 12-0). At the Tijuana Open, he won double gold. Also at this year's Worlds, he unfortunately lost at the quarter finals where he had 5 matches. For this year's American Nationals, he won double silver in gi and nogi. Most recently was his participation at the Elite Submission League. This year he did the purple belt grand pix (open weight only) where he got bronze after having 5 matches. He has a super fight scheduled on September with Elite Submission League and also plans to do the IBJJF Seattle Open. We expect nothing but more titles for our fighter and support his journey all the way!