Asena Melike Agansoy - Turkey's First Female Black Belt 2018
I started training in 2012 under Burak Değer Biçer (Corvos Combat) and attended 2013 Europeans as a white belt. After attending to Europeans I got extremely impressed by the atmosphere there and decided to quit college and become a full time athlete.
People are surprised when they hear it because I was just a white belt when I took that decision. I wasn't happy with college and my studies. But I knew I had to take that decision sooner or later, the same decision I took before I started training BJJ.
I was promoted to blue belt in 2013 and became Turkey's first female national champion. I also won 1 silver and 1 bronz medal in blue belt at IBJJF European No Gi and Munich Open. I got promoted to purple belt in 2015. I won 2 silver medals at UAEJJF Greece National Pro in purple belt. Got promoted to brown belt in May 2016 and won 1 silver and 1 bronz medal in Greece National Pro again, I attended IBJJF Paris Open same year and won a silver medal in brown belt absolute division.
It was a big struggle for me to decide quitting school and there was a huge risk because BJJ is not a popular sport in my country and Turkey is a patriarchal country, also its very hard for people to secure themselves in a job without a college degree. But I knew that discipline and right moves towards my goals will bring me success and I trust myself.
My plan was to train and get into a certain level. And after awhile I could study again because I love learning and being a student through my life. After I got my purple belt in 2015 I started making plans on studying something I love which ended up me winning a full scholarship in sport management at Istanbul Bilgi University. I feel so lucky because everything turned out the way I planned and worked on.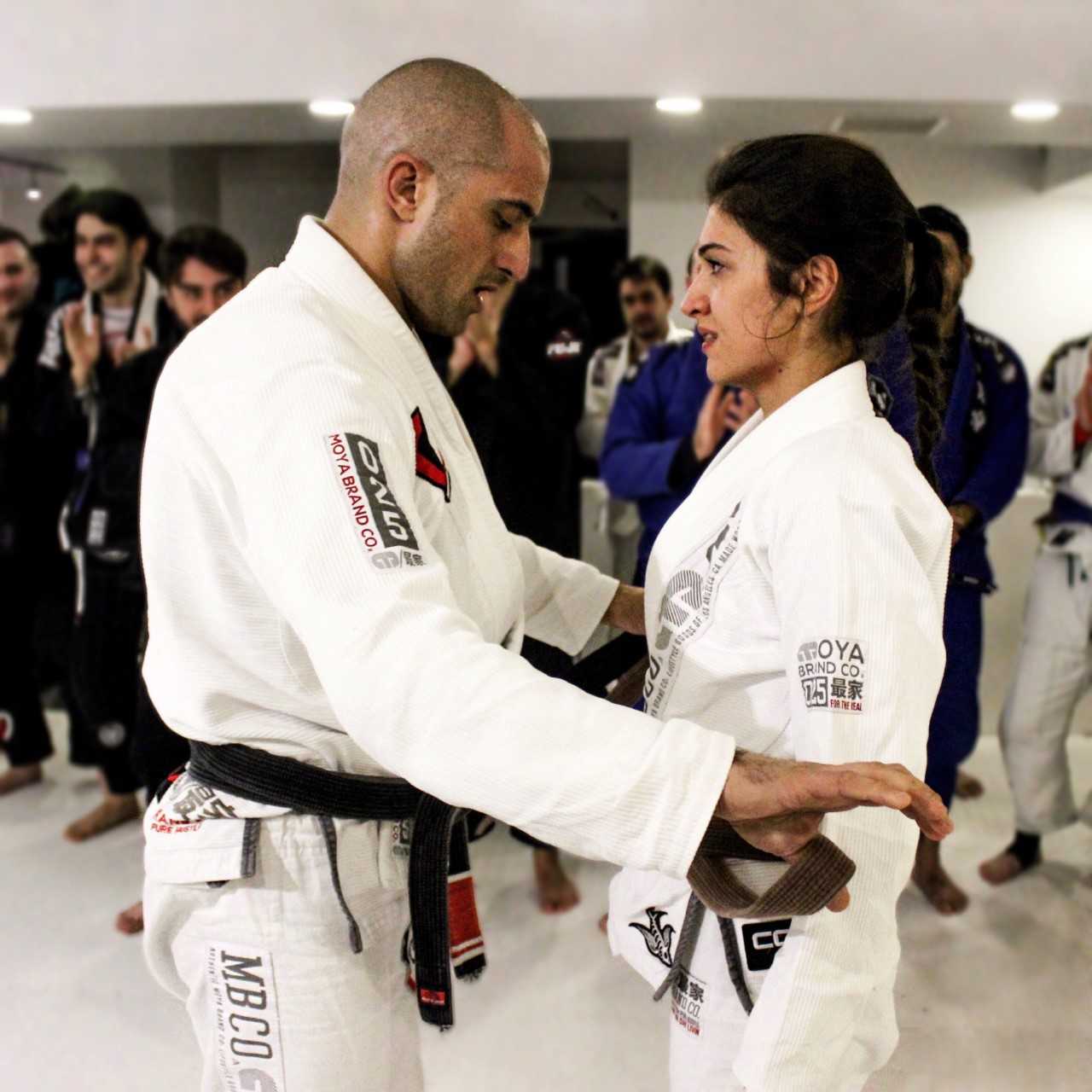 My teammates and instructor were very supportive towards me. I believe they are the main reason for this accomplishment. It wouldn't be possible without my brother, instructor and teammates scratching my head to mat everyday. This is the result of the work we put in together. I feel so lucky to be part of my team Corvos Combat. My family is also very supportive, my brother got promoted to black belt with me and my mom encouraged me a lot through my journey because she holds a Kyokushin black belt so she understood what I wanted to accomplish.
Some days I train for 6-8 hours, some days 3. Depends on my competition schedule and season. After I started studying again I lowered my tempo, in midterms or finals week I'm only able to train 3 times a week.
Its been tough, both mentally and physically but every drop of blood and sweat is definitely worth becoming a black belt. I don't see it as an end but a brand new beginning and it really felt like I just started "the real journey".