Sergio Machado (Blackbelt - Team 3/Checkmat) 2016!
Military men and women sacrifice a lot to fulfill their duties for this country. It's no secret that they dedicate a lot of their time, their bodies, and their entire being into their services, big or small. Our very own black belt, Sergio Machado, was one of these honorable beings who served in the Army. He unfortunately developed a back injury while serving, causing surgery in 2006 prior to his 3rd tour in Iraq. He was at the top 5% of all recovering back surgery patients, which gave him a new outlook in life after overcoming this obstacle. On September 2007, Sergio decided to leave the military and pursue his new dream, a professional career in Brazilian Jiu-Jitsu.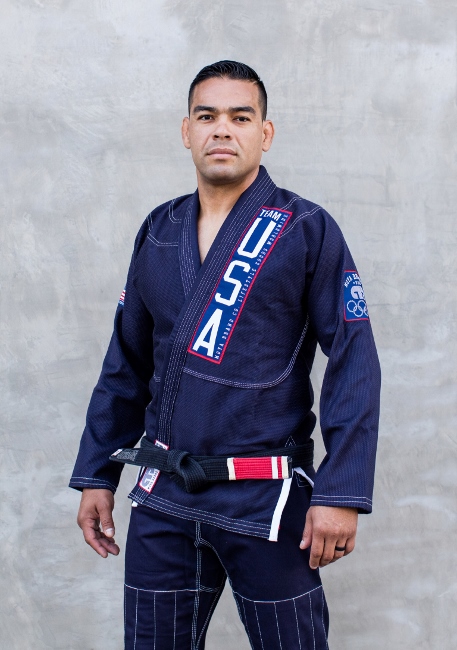 He received his black belt from his friend and coach, Ricardo "Pancho" Feliciano. He then opened his own academy on October 2010 in Ontario, California. Team 3 Checkmat was later moved to Montclair (4650 Arrow Hwy, Suite D-6 Montclair, CA), a bigger and nicer location, offering both fitness and BJJ classes for ages 3 and up. It's a great academy and if anyone is interested, you can reach them on info@team3checkmat.com and check their IG page out on @team_3_checkmat.

Along with running his own academy, Sergio continues to train at other Checkmat schools, is highly active in the BJJ tournament scene, and a marathoner/triathlete. Just this year he's competed in Jiu-Jitsu World League, NABJJF, IBJJF, SubCon, and even did a Super Fight for the Fight To Win show. He won all but 2 of them, and even received double gold for some. Participating in marathons, especially one such as the "Ironman" (a 104.6 mile race), keeps him mentally strong with a "refusal to quit" attitude. But behind this very positive outlook, is his very supportive family which consists of his wife and daughter.

Sergio is now about to enter the Police Academy and is expected to graduate in April 2017. He told us, "After 10 years in the army, and 9 years of martial arts, I have prepared myself for this new life change. I am proud and honored to have been hired by an amazing police department and I can't wait to start serving the people of that city." It sure seems like nothing will get in the way of this man from achieving his goals and we're so proud to represent him!