Cisneros Brothers! One Tough Bunch!!
They say certain talents and skills run in the family. The Cisneros family is a clear representation of that. Josh (16-year-old blue belt) and Jacob (14-year-old orange belt) Cisneros are both aspiring Brazilian Jiu-Jitsu athletes who train at the Eliteteam in Visalia, California, under Professor Tom Knox. They're an affiliate under Cleber Luciano. Their parents introduced them to the beautiful sport and have been training now for 3 years. These boys train 4-5 times a week, along with conditioning 3 times a week, in between their school schedules. "Scrap pack" is what their parents call them! Josh and Jacob have no problems training alongside each other. In fact, they enjoy doing intense drills together.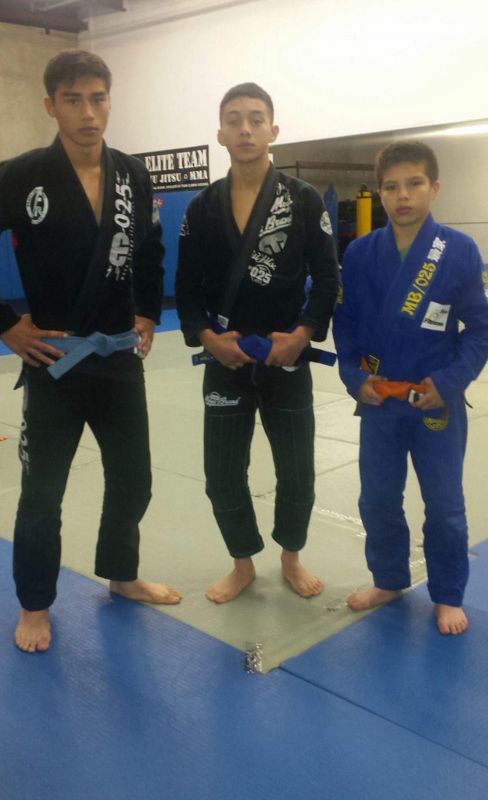 Here's a little recap of these boys's year... Josh (in the 135 lb weight class) got bronze in his division and silver in the open at the IBJJF Pan Americans. He placed 2nd in his division and in the open at the IBJJF Worlds. He won the IBJJF American Nationals in Las Vegas and got bronze at NAGA in San Jose, CA, in the No Gi adult expert division only losing to Caio Terra in the semis. Josh then went on to win the adult blue belt division. He went 5-1 for the day with 5 submissions.

Jacob (in the 95 lb weight class) took home the gold at the IBJJF Pan Americans for the 3rd time. He also won in the NAGA tournament at the Gi and No Gi expert division.

They have three older brothers who heavily influence them. The two oldest were California State Wrestling Champions and between just them two, they can claim 4 State Championships with 7 state medal placings. The third oldest brother also trains BJJ at Megaton's BJJ in Phoenix, AZ. He's a purple belt who also attends Grand Canyon University. Lastly, their younger brother is a 6-year-old who also trains BJJ. Talk about a family with a very strong skill set!

With a heavy bond and a very strong family who knows exactly how to be valuable and supportive to one another, the sky is truly the limit on what's up next for these talented boys!